Max is on his way to rehab!!!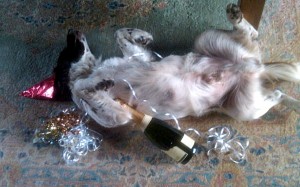 I used to be the life of the party on New Years Eve, but as you can see Uncle Max took over the reigns this year.
His age started to show this year and even though he's a great hunting dog whether it be retrieving ducks from the blind or chasing down the wiley roosters that call the arctic(-35 today)plains home,  Max has been showing signs of aging.
On the Eve of 2011, reality must have set in, as we found Max this morning past out in the kitchen on his way to popping the cork on one more bottle of bubbly.  That's the great thing about spaniels, even when they're whipped, they'll never admit it.  Well Max got whipped this New Years eve, but we're still proud of his never say never spirit. Happy New Year!!!
Leave a Reply