Our Training Grounds
In the fall of 2011, we purchased a 160 acre parcel of land, consisting of native prairie and rolling CRP (Conservation Reserve Program) My brothers and I have been hunting pheasants, grouse, and coyote on this very parcel for as long as I can remember. Left primarily in native grasses such as gama, blue, switch, and blend of alfalfa.  Our acreage borders active corn, alfalfa fields, and native prairie.  Wild birds, rabbits, and deer abound. The draws are thick with willow, choke-cherries, and wild plum trees, while the tops are open and grassy. As well, some of the low spots hold water well into the summer, the perfect combination for working and training your dog in most any real-hunting situation. We emphasize serious water work for the English Cocker, English Springers, Labs, and all of our training dogs. We use a half-dozen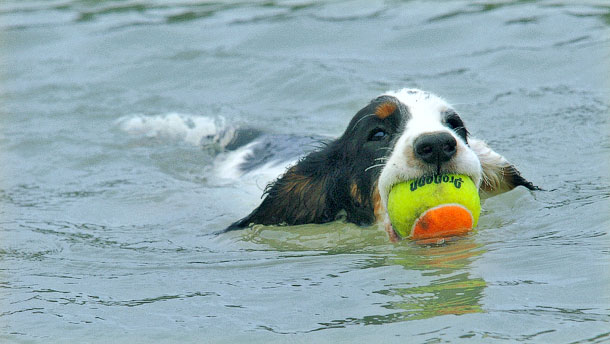 nearby lakes, ponds, and Apple Creek for water work, as well as the Missouri River for training.  We have recently began construction of a water pond on our recently acquired property to give the dogs yet another means of a more consistent water program.  Using live birds and dummies, we create every conceivable situation your dog will encounter as a hunter or field trial dog.
No doubt about it!
We love the water work,
and we're absolutely sure your dog will too. Absolute has just finished construction of a brand new 50 dog kennel, with all of the things that you would expect for your pet, whether boarding or training.  Check out our '
'Boarding and Doggie Daycare
'' page.