Welcome to Absolute's "Select Puppy". If the term 'Select Puppy' gives you a warm and fuzzy feeling that your puppy is special, then we know our intention is being realized. We select your puppy and nurture it, give It special attention and extra socialization to ensure he or she becomes the Absolute partner in the home and the field that you've always dreamed, an adaptable, happy, and healthy young Spaniel or lab. 'Select Puppy' is just one more example of why Absolute Gun Dogs should be your first choice when choosing your next gun dog and family companion.
"Select Puppy" is our process for ensuring you an adaptable, happy, and healthy puppy. Your 'Select Puppy' will be more relaxed the first night at home, be easier to potty train, enthusiastic about retrieving, and highly social with other dogs and people.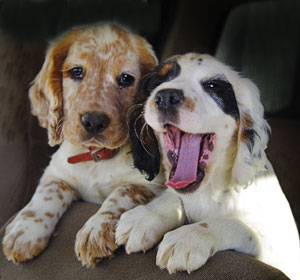 There are three facets to our 'Select Puppy' program. The first, obviously, is excellent breeding. We only breed sound, biddable, healthy dogs with lots of drive, soft mouths, and plenty of intelligence. Both parents will be proven in the field, and one or both are likely to be competitive field-trial dogs If you are contemplating an English Cocker or English Springer Spaniel puppy, and our British labs will be the same. Rest assured that our breeding pairs have been molded through traditional, positive reinforcement training methods. We don't breed to collar-trained dogs. At least one will have resided in the home, either our home or the home of a close friend or associate, because following the prescription of the British breeders, we are looking to create fine canine companions, not just good hunting or field trial dogs.
Secondly, we take a hands-on approach with the puppies from day one. It's a fact that the mild stress from handling young newborns releases endorphins which, long-term, make them stronger and healthier dogs than that of pups left entirely alone with the dam. So a 'Select Puppy' gets plenty of hands-on attention while their eyes are still closed. As they mature so does the handling, featuring lots of human contact, play, and affection.
We begin molding and nurturing natural hunting instincts as a group and individually at around 6 weeks of age by taking the puppies for walks in various types of cover. At this age, we also begin short, individual training exercises like retrieving, coming to the whistle, and introduction to gunfire. For example, we fire a cap gun overhead while they happily feed and progress from there.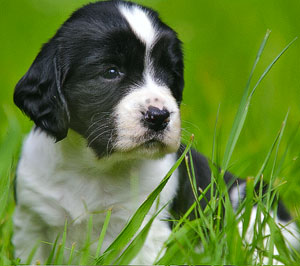 The third, and probably most critical way that we create a 'Select Puppy' is by adhering to a ten-week regimen before placing our pups with their new owners. It really boils down to development and maturity in terms of successfully placing a puppy. The timing when placing a puppy parallels that of a child beginning his or her academic career. Some kids may not be ready for school. Some may lack developmental maturity even though chronologically they are of age to begin school. For the child's benefit, we may wait until the following year. Likewise, when puppies are separated from mom and the litter too soon it can greatly affect the way that they learn and cope with stressful situations. When a puppy is seven weeks old, there is no way to gage individual development in the litter. The beauty of Absolute's 'Select Puppy', is that every 'student' is afforded the proper amount of time to mature before beginning 'school'. Ten Weeks assures they have developed emotionally and are ready to thrive in their new environment.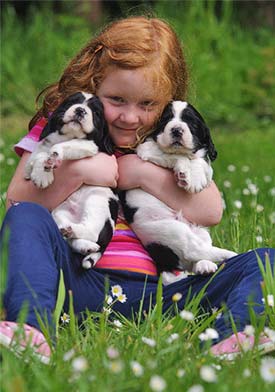 The Forty-ninth Day is Out. The Seventieth Day Is In.
We understand that you might be surprised by our ten-week placement philosophy. We do not subscribe to the '49th day' theory-so prevalent in the minds of some breeders and prospective owners. We highly recommend animal behaviorist and gundog owner Dr. Ed Bailey's article; 'Another Look at the 49th Day' from Gundog Magazine. It puts the 49th day theory of puppy placement to rest and argues strongly for placement at ten weeks or beyond.
In a nutshell, on the 49th day, pups from the same litter may be as much as two weeks apart developmentally (from 42 to 56 days old), as the 49th day is only an average age for the puppies in each litter. Waiting until the tenth week assures that the puppies have passed through their peak period of 'fear response' and that all are fully weaned and able to separate physically and emotionally from 'mom'. At ten weeks each pup is equal to it's littermates in its cognitive development. Overall, at ten weeks the puppy is demonstrating the characteristics of the dog it is to become both physically and emotionally.
At times because of distance, some clients may prefer to leave the selection process to the experts. If this is the case we will be happy to 'select' your puppy for you. We know you'll be pleased.
We understand that 'Select Puppy' program may not be for everybody looking for a puppy, but we do believe that it is the right program for every puppy looking for a home, and a great reason to choose your next puppy from Absolute Gun Dogs.