Gun Dogs For Sale
"Thunder" Field Bred English Cocker Puppy for Sale
DOB: 04/11/2015
Sire: Ballymena's Bold Bodhran
CNFC/FC Warrener's California Qauil X FC/AFC/CFC/CAFC Ballymena Lucky Shamrock MH
Dam: Absolute's Sunshine on a Rainy Day
Mallowdale Teddy X Verstone Night Gem at Dal-Rhe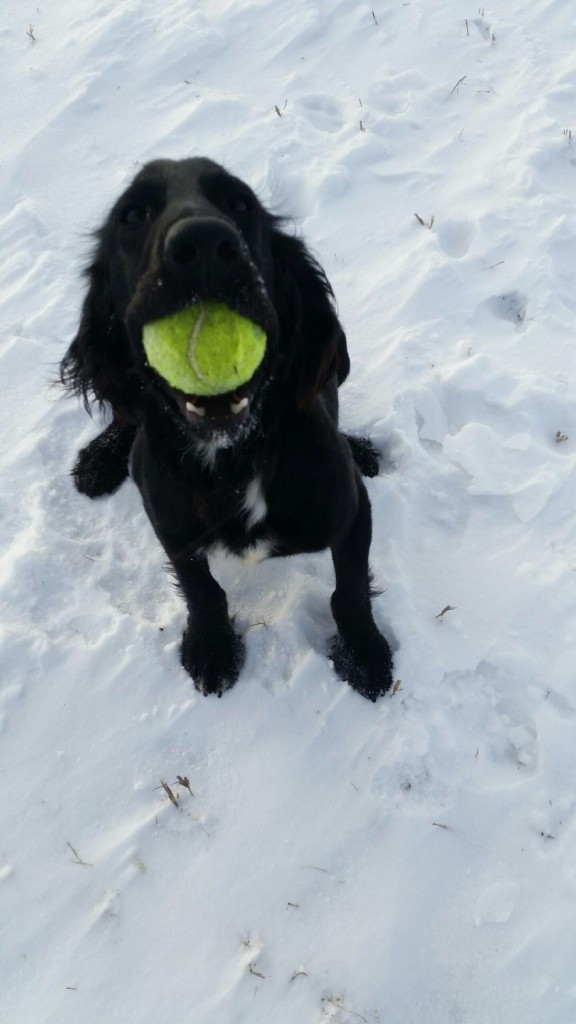 Thunder is started Field bred English Cocker Spaniel, male puppy.  He loves to retrieve, has a great personality, and a nice build.  We've been working on place-board obedience, leash walks, lots of retrieving, and some introductory quail work with Thunder,  He's been introduced to the gun, and loves to go to work.  Thunder will mature into a nice hunting dog and pet, and has field trial potential.
Both parents are excellent hunting dogs and pets.  Grand Sire is the only English Cocker to ever win the Canadian National, and grandmother is a very accomplished trial dog that has numerous placements in the U.S. National, with a 2nd place being the highest achieving placement.
price: $3500.00  Contact Us For more info.
Finished-English Springer Spaniel for sale "Sold"
Pine Shadows CS Montana 'Tanna' 'Sold'
(NFC FC AFC Brae's Good Sport X AFC Denalisunflo's Coffey II)
DOB: 10/09/07
Here is an opportunity to own a finished English Springer Spaniel that is also a great house pet.  Tanna is a beautiful and driven, and has numerous field trial placements.  She has a nice mouth, great nose, a bold flush, and has remarkable endurance.  Tanna will be a great addition to a family, both in the house and afield.  She's fully trained and will make you the envy of your hunting buddies.
Tanna has had one litter of pups and will not be sold as a breeding bitch.  Tanna will be sold as a family pet and hunting dog.
Price $2000 or best home "Sold"
For more info. Contact Us:
Don't see what you are looking for?
We do our best to keep the site up-to-date with pictures and descriptions of puppies and started dogs for sale. However, we often get busy with training and life's other distractions that occupy our time.  This is especially true during trial season, hunting season, fishing season, and all of the various kid seasons, which these days seems to be year-'round. In fact, we may very well have that puppy or started hunting dog that you are looking for even though' it's not up on the site. So, by all means, contact us. Often times, puppies are available and spoken for before they ever make it to the "For Sale" page.  If we don't have what you are looking for, we are happy to refer you to a reputable breeder who may.