Our Breeding Philosophy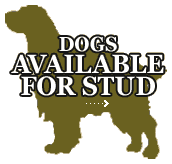 Our breeding philosophy is pretty simple. As gun dog breeders, we place our emphasis on bettering the breed, and providing you, the prospective owner, with a quality pup, one we would want to own ourselves. When it comes to breeding and placing gun dogs, the money is important and necessary but it is secondary to producing a quality line of gun dogs that will make both excellent hunters and companions.
At Absolute we prefer to see our dogs go to hunting households. If the dog is not to be trained to hunt, it is important for the prospective owner to realize that well-bred field dogs are athletes, and as such they need goodly amounts of daily exercise and mental stimulation. A walk around the block on a leash after work doesn't count. We mean EXERCISE; running, swimming, chasing, and retrieving-for an hour or so. As for mental stimulation, any kind of training; for field work, agility, or obedience training is appropriate. Even parlor tricks count, anything to keep your dog's mind active, interested, and focused on you. Fail to do this and you could very well have a Springer or Cocker that barks, chews, piddles, or otherwise acts out their frustration.
When you inquire about an Absolute pup we will query you as to your plans for the dog and your lifestyle, and if need be as determined by us, we may recommend another breeding or another breed altogether.
When we choose a breeding pair, we look for, friendly, sound, biddable dogs with natural retrieving abilities, a strong desire to hunt, soft mouths, and a good, strong flush. We do not breed to collar-trained dogs. (See 'Our Philosophy') All or most of our gun dog breedings will have at least one field trial quality gun dog as sire or dam since we believe that the polish required of a field trial dog is more likely to reveal the dog's true genetic make-up and character. We only breed dogs that have a passing OFA or PennHip hip evaluation in an attempt to prevent passing on genetic hip dysplasia, which is prevalent in so many breeds.
All puppies coming to you will be well-socialized; Myself, Jen, Paige, Daniel, and the Absolute team will see to that. Pups will have tails docked to field standard, dew-claws removed, and will be up-to-date on shots, with an initial health examination by our local vet. Generally we like to place puppies between ten (see 'Select Puppy') and fourteen weeks old (see 'Super Puppy') .
Absolute offers a one-year health guarantee on puppies. If a serious health issue arises, we will gladly take the dog back and find you a replacement-either from our kennel or from one of our associates. In the event of a puppy coming back to us, we ask that the owner be responsible for any costs associated with the process. In addition, the puppy must be alive and/or documentation of the health defect must accompany the animal before we can exercise our guarantee.
That there that you just read is the fine print. Remember, our first goal always is to improve the breed, and that means producing spaniels with the best characteristics of the breed, an affinity for the field and for people; true, whole, and complete.