The Field Trial Team
FC Macon Creek Tucker
D.O.B.  April 29, 2010
Sire:  FC Sir Gustopher Geezer
Dam: FC Oahe One in a Million
Owner(s):  Richard Croll
Championship Points:  48
Tucker is a nice looking young male with an affliction to retrieve anything and everything whether, on land or water.  He's developing into a nice trial dog after a long season of guided hunts this fall working wild pheasants.  Tucker has a great mouth, great drive, and has developed into a superb marking dog.  His gentle soul and a passion for work make him a delight to train and handle.
Tucker received his first placement in the winter of 2012 placing second behind his father.  Since then he has added two firsts, two more seconds, a third, and a fourth place placement.  Pending what will be a breeze for this water-nut, Tucker earned his Field Champion title on April 21st with a win at the Northern MN trial.  Great Job Tucker!!  We are excited to continue to watch him mature in his quest for greatness.
FC Little Jessie Girl 'Jessie'
D.O.B.  05/10/2009
Sire: FC Sire Gustopher Geezer
Dam: Flickertails Azeri
Onwer(s):  Bob and Elaine David
Championship points: 24 (three wins in 2013) + 1 Gunner's Award
Jessie is a long, sleek, and extremely athletic 42 lb. bitch.  She has a super soft mouth, a bold-driving flush, a twinkle in her eye, and a big heart.  Jessie has the desirable on-off switch where she can relax and be calm in the home, but when it's go time, it's go really fast time.  Jessie is one of, if not, the most athletic dog we have ever had at the kennel.
Jessie has been finding success in field trials since, she was a puppy with her first placement coming in 2011 just before her 2nd birthday, a second place placement.  That same year Jessie received additional placements and a CM at the National Open championship, her dad did the same.  In the Spring of 2013 Jesse has accumulated 17 points, with three wins, two 4th place placements, and a Gunner's award.
FC/AFC Bridgemater's Minnesota T "Sota"
DOB  3/21/05
Sire:  Brackenbuster Chopper
Dam:  AFC Sand Creek Zydeco Zoe
owner's:  Tracie Wilson and Jayne Reinhart
Sota is an efficient bird finder, an exceptional marker, has a great mouth, and a powerful flush.  She is very reliable and honest, and  has a natural flow to her that makes her a joy to watch when she is working game.
Calm and quiet in the home, Sota is yet another one of those great working dog pets.  While not working pheasants and competing in field trials, Sota enjoys her life in MN with her owners and their five other spaniels.  A true testament to the breed.  Consistent and reliable, we've had the opportunity to spend some time with Sota hunting wild pheasants, which we hope will give her just the little extra experience when conditions are tough and the birds are allusive.
Freckled Rock Aragorn "Strider"
D O B 03/29/08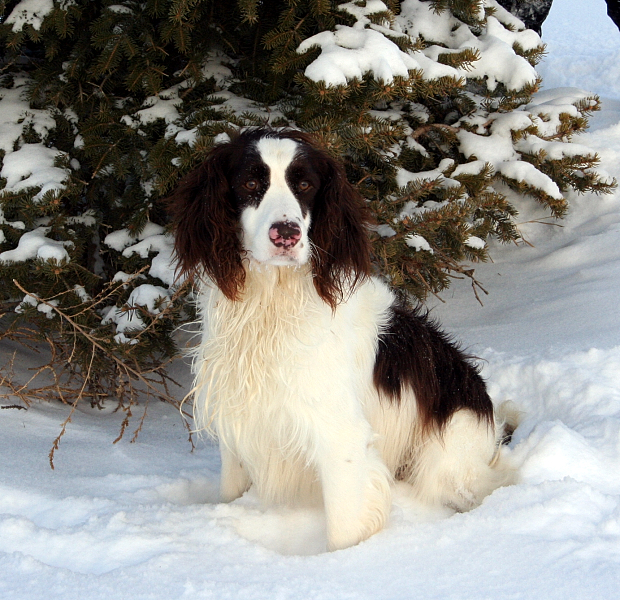 Breed: Spaniel, English Springer
Sire: FC/AFC Lighthouse Rock Star
Dam: AFC Timberdoodle's Freckles
Owner: Russ Pool
Strider, a native of suburban Washington started with Absolute in late 2010.  A clown by nature, Strider is a joy to be around.  Showing his full throttle joy for everything he does, including chasing sparrows during free runs.  Strider has come a long way in his training.  He may still lack  a little in field experience, but we are looking forward to continuing his progression this fall, in the hopes of a National Qualification.
Strider has a great nose, a nice mouth, a driving flush, and is very thorough in the field.  One of his strongest points is his marking ability.  With a little more time and experience, he's going to be one of those rare dogs that can mark anything that falls from the sky.   He is very athletic dog with great stamina and style.
Available for Stud!
FC Gimme Shelter Khaya "Khaya"
D.O.B. 12/30/2008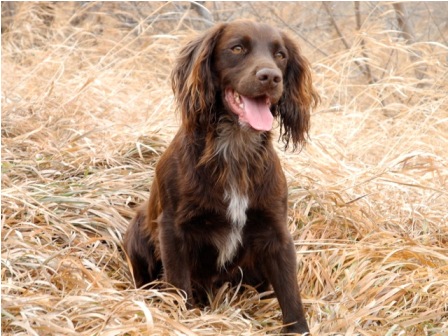 Breed:  Spaniel, English Cocker
Sire:FC/AFC/CFC/ACFC Warrener's Black Scoter
Dam:FC/CFC Phantomwoods Twigg
Owner: Bruce Britton
U.S. Open Points:  13
Amateur Points: 5
(2  Gun's Awarad)
Khaya, is a promising young male with a special sense of connection, a full dose of drive, and a seemingly equal amount of smarts.  He is an excellent marker who always seems to use his head even when situations get a little difficult.
Content with chasing tennis balls or dummies, helping out at home with laundry duties, or flushing and retrieving birds, this guy loves it all.  Khaya has a great nose, a solid flush, a soft mouth, and like any good cocker, he's got a great sense of humor.
After placing 3rd in the open stake in our first weekend of trials, he also placed 3rd and received a gunner's award with his owner in the amateur stake.  He has since achieved two 2nd place placements in very competitive Open stakes.  We  are excited to have Khaya as part of, "Team Absolute", and are eager to see what 2012 has in store.
FC Oahe Diamond In the Ruff Ruff
Date Whelped: 04/07/2008

Breed: Spaniel; English Cocker
Sire: Scoter's Little Black Rudy
Dam: FC CFC Phantomwoods Twigg
Owner's: Daniel and Jennifer Murray
U.S.Points: 5 (puppy)
U.S. Open Points: 20 + 2 Guns Awards
Spencer: Spencer is a good looking 32 lb. English Cocker with lots of power, a great mouth, and a great flush.  He's a great marker and retriever, and has a great attitude. Spencer loves life. There is no other way of putting it. He's a special dog with an unlimited amount of potential.  If we could bottle and sell whatever it is that makes Spencer go, we could retire comfortably in our mid-thirties. We love this dog and so does everyone else who meets him.
Spencer finished his first open trial at 14 months competing against cockers and Springers.  He accumulated 14 points with a win, two 2nds, a 3rd, a 4th place placement, and a guns award in this, his first full year of field trials and received a certificate of completion at the 2010 Cocker Nationals. Spencer is an outstanding gun dog who is loaded with natural talent, and is sure to be seen in many English Cocker Spaniel field trials in years to come.
FC Oahe Sweet Dilemma
Date Whelped:03/01/2007
Breed: Spaniel; English Cocker
Sire: Mallowdale Teddy
Dam: Oahe Once in a Blue Moon
Owner's: Daniel and Jennifer Murray
U.S. Amateur points: 1
U.S. Open Points: 27 + 1 guns Award
Canadian Points: 7
Winner of 2010 North American High Point Cocker Award!
2nd place finish at 2011 National Cocker Championship(largest NCC to-date)
Certificate of Merit in 2012 Cocker National Championship
Emma: Emma is a 27 lb. Cocker bitch who is very soft and quiet dog in the house and is very bold and powerful when she goes afield.  Emma has a good flush, a great mouth, is a great marker and tracker, and is a very intelligent dog.  Emma received her first field trial placement, a 4th place in the amateur stake at 14 months, and a 2nd place placement in an open all-age at 16 months.  She fisnished 4 series of the National open at 18 months and has since, added 2 1sts, a 2nd, and two 3rd place placements in the U.S., and a 2nd place placement in the 2011 Nation Cocker Championship.  Emma also added  three 3rds and a 4th in as many Canadian trials, competing against Springers and cockers.
Emma is quiet in the home, loves to snuggle, and has a great sense of humor, however, she shows her intelligence and confidence while afield.
FC Sir Gustopher Geezer
Date Whelped: 01/22/2006
Breed: Spaniel; English Springer
Sire: FC CFC Clarburgh Eclipse of Ladecourt(2006 High Point Open Springer Spaniel)
Dam: FC Yoshi IV
Owner's: Bob and Elaine David
U.S. Points: 23
Canadian Points: 5
Gus: Gus is a good size Springer, weighing in at around 42 lbs.  He has a beautiful natural pattern, a perfect mouth, a driving flush, and is a great marker.  Gus handles to blinds on land and water, and is a very kind dog who loves his work.  Gus enjoys laying in your lap when he's not hunting or chasing tennis balls.  Through his career, Gus has been our most consistent dog in field trials, and rarely misses a third series.  Gus struggled to earn a win which was holding him back from his Championship title.  In the winter of 2012, Gus had his day, almost being beat by his son, and earning his field championship with a first place placement at the Missouri English Springer Spaniel club field trial.  Gus will be competing in the 2013 with 2 of his offspring.
FC Mia Bo's Foxtrot Tango Charlie "Charlie"
Date Whelped: 09/17/05
Breed: Spaniel; English Springer
Sire: Greenwater's Spitfire
Dam: MiaBo's Rhubarb Pie
Owner's: Don & Roxanne Banducci
U.S. Amateur pts: 6
U.S. Open Pts: 19+1 gun Award
Canadian Pts(open) 2
Canadian Pts Amateur 2
Charlie: Charlie is a solid 45 lb. male with super bird-finding abilities. Charlie has all the tools. First and foremost a pet and duck dog, Charlie began his field trial career at 3 ½ years old after someone at a hunt test observed him make a 100 yard marked retrieve through heavy cover and commented "Do that in the third series of a field trial and that's a blue ribbon." What his owner didn't realize was how tough it can be to get into the third series, and earning a win could prove to be an even tougher task!
With no trial training and perhaps two dozen pen-raised and wild bird flushes under his belt to start with, Charlie eventually placed three times in the Spring of 2009, all 4th places.  Since Charlie has arrived at Absolute, he has placed in 7 trials with one-2nd place placement, two-3rd place placements, and four-4th place placements. He is a very consistent and honest dog and rarely makes a mistake.  Though the ribbons were tough to come by this year with a 2 inch stick lodged in his nose for the majority of the Spring field trials, and an even larger one during the fall, Charlie got his blue ribbon and the guns award at the Fox Valley trial this fall.  Way to go Charlie!!  After Spending time with his owner in the duck blind and hunting wild pheasants in 2012, Charlie found his way back to the trial circuit in the Winter of 2013, earning his field trial Championship with a second place placement at the Pawnee trial in Colorado.  Proof that, with hard work, dedication and a great dog, you can make a champion out of a dog that lives in the house and spends the majority of his time hunting wild birds, whether that be Aleutian geese, green heads, or wild pheasants.  Congrats Charlie!!
FC Oahe One In A Million
Date Whelped:07/10/2006
Breed: Spaniel; English Springer
Sire: CFC Towerbird Water Dragon
Dam:Dominique's Willow Sampson
Owner's: Daniel and Jennifer Murray
U.S. Points:49 + 2 Guns Award
Canadian Points: 2
Millie: Millie is a petite 30 lb. Springer bitch with a twinkle in her eye and a mind of her own. She has unmatched drive, and a flashy, highly animated style. She runs a beautiful pattern, has a solid flush, a perfect mouth, and is highly biddable. Millie is also the perfect house dog, quiet and relaxed until the tennis ball hits the floor; the classic temperament of the British-bred; English Springer Spaniel.
Millie has been finishing open-all age field trials consistently since she was 14 months of age. It took us one year of trials and tribulations before we received our first ribbon, a third place. Then we did some hunting on North Dakota pheasants for a season. Don't let anyone tell you wild pheasants will ruin a trial dog! For Millie, the wild birds were an education and an inspiration.
2009 was Millie's year, as she accumulated 35 open all-age points with 7 first place placements and was awarded the 2009 high point English Springer Spaniel open-all age dog in the U.S.  A good business has led us to limit the number of trials that we enter Millie in.  Her life has been reduced to hunting ducks, geese, pheasants, and sharp-tail grouse 2-4 times per week in the fall, poor thing.  With limited entries, still manages to scratch a placement or two from time-to-time, and we are starting to see some greatness in a few of her offspring which we've had the pleasure to watch develop.
I sort of wish we didn't love her so much, as now we can only wonder what kind of point accumulation she was capable of if she were owned by one of our great clients.