Our 'Super Puppy' program is a 'doggie fun-camp' for advanced socialization. The beauty of the 'Super Puppy' program is that it piggy-backs nicely onto our 'Select Puppy' Program. 'Super Puppy' is for dogs from the age of ten weeks to fourteen weeks of age- exposing them to other dogs and people while introducing no-pressure and low-pressure training exercises, all in an atmosphere of affection, gentle direction, and fun. The results of 'Super Puppy' program are confident young dogs that are highly social and exceedingly quick to bond with individuals; dogs that will become wildly enthusiastic retrievers; that will be unafraid of gunfire or other loud noises; and most importantly, a dog whose brains have been well-exercised at this formative stage, putting them solidly on the path of loving to learn and to please.
Every Puppy Should Be A Super Puppy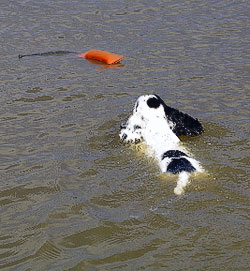 It's no secret that the average canine pet is seriously undertrained. This is true even for the average hunting dog. As humans we have long underestimated a dog's true intelligence and potential which is born out by the striking achievements in the service dog industry over the last two decades. For example: SURFice Dog Ricochet. In recognition of the above, we do our best to make Super Puppy a spring board to higher learning and higher achievement, regardless of how he or she will co-exist with you; as a hunter, field-trial competitor, agility specialist, service dog, or enthusiastic walking or running companion. By introducing your young dog to situations and possibilities they might not otherwise experience until many months later, if at all, we can assure a higher level of potential as well as an easy compatibility between you and your new friend.
The Super Puppy program entails the following to a greater or lesser degree depending on the season and length of stay.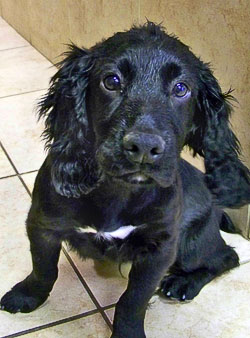 Intensive socialization with young people-from toddlers to teens.
Intensive socialization with other dogs-from pups to senior adults.
Name recognition and response.
Crate training for the home and vehicle.
Introduction to basic obedience including lead (leash) training.
Introduction to retrieving.
Introduction to birds (dove, quail).
Introduction to gunfire.
Introduction to water (seasonally dependent)
Whistle response-Hup, turn, and come.
Hand signal response-Hup, turn, and come.
Before You Ask:
Here are some questions and answers often posed by potential clients of Super Puppy. If you have others, by all means, ask us!
But won't I miss my puppy being a puppy?
Let's face it, puppies are cute and they generally stay that way until they are around 7 or 8 months of age. The fact that they will be quick to learn, more adaptable, and easier to live with will make the additional three or four weeks with us well worth the wait. After experiencing the long-term benefits and rewards of 'Super Puppy', we feel strongly that you will insist on a 'Super Puppy' every time.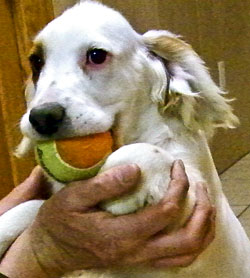 Where will my puppy live?
Your 'Super Puppy' will split it's time between our new boarding and Doggie Day Care Dog kennel and our home.  While at the kennel we will set up a daytime socialization pen in the where your 'Super Puppy' will be greeted by boarding customers and their dogs as they enter and exit the facility. Your 'Super Puppy' will be petted, handled and bump noses with a variety of people and dogs of all ages, all day long. You can't ask for better socialization than this.
Your new little buddy will also spend a number of days and nights with us in our home, with the ratio between kennel and home perhaps 75 to 25%. At our home pups will have their own crates, which will serve both as security blanket and a place for 'time-outs.' They will be subject to all the amenities and appropriate discipline and socialization opportunities that one of our own dogs would experience, including ringing telephones, crashing pots and pans, and screaming, laughing children pounding down the hallways. Here there is no lack of enthusiasm in Paige, Daniel, or their friends for getting their hands on licking, leaping puppies, and vice-versa.
What about the eight to twelve week-old bonding period? If we do Super Puppy, will our dog bond with us?
The answer is yes, Absolutely. It's important to understand that the 'bonding response' has to do with dogs bonding to humans as a species, not to humans as individuals. Assuming proper human socialization, which is a given with 'Super Puppy,' your young dog will bond with whomever is showing it care and affection, exercising discipline, and most importantly, feeding it. For a period of time that will be one of us at Absolute. Once you take possession of your 'Super Puppy', he or she will quickly and happily bond with you.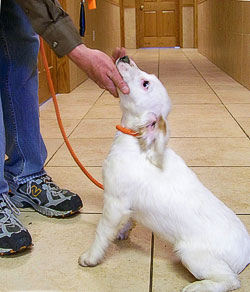 What about the cost?
The costs associated with housing, feeding, vaccinating, socializing, training, and cleaning-up after a 10 to 14 week-old pup are actually greater than that of an adult dog. The extra time, attention, and fixed costs required account for the extra expense of the 'Super Puppy' program. For us, 'Super Puppy' is not about making a lot of money, but instead, delivering an Absolutely confident young spaniel or retriever to you. That is our goal.We know that if you are pleased with your Absolute 'Super Puppy' we are likely to see him or her back for started, intermediate, and advanced gundog training. (Where we really rake in the big bucks!).
Can't I do Super Puppy myself at home?
Absolutely! There is no magic to creating a 'Super Puppy.' All that is required is some experience, some time, and the inclination to apply the two in a patient and gentle fashion. You can do it yourself and you should do it yourself if you have the requisite skill and the time. But if you are short either one, let us do it for you. You are more than welcome to join us and we'll train you while we train your pup. These weeks are a very formative time for your new pup, ones we hope you will take full advantage of, regardless!
What about 'house-breaking' or 'pottie-training?'
Because your pup will be in the socialization pen at the kennel, potty-training becomes part of their daily routine. The girls on duty take the pups outside a number of times each day. The same applies to their routine when at our house and for the most part they get the consistency necessary for the lessons to sink in. While individual dogs differ and accidents do happen, your pup should be potty-trained to the crate or pen when he or she comes home to you as a confident and eager-to-please young dog.
For The Dog of a Lifetime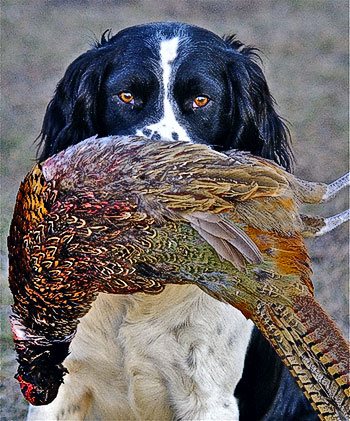 The point of Absolute's 'Select Puppy' and 'Super Puppy' is to ensure you are Absolutely delighted with your new pup. We are confident that he or she will be primed and ready to begin a long and healthy relationship with you. The goal at Absolute is True, Whole, and Complete. 'Select Puppy' and 'Super Puppy' are just two more examples of our commitment to you the customer, the dogs, and to ourselves, to ensure a strong foundation for improving the English Cocker, English Springer Spaniel, and British Labrador Retriever breeds.
Let him or her grow up with us for a few more weeks as a 'Select Puppy' while gaining a solid footing for confidence and learning as a 'Super Puppy.' We believe that your new companion will be happier and better off for having this unique opportunity to become the best dog it can be.