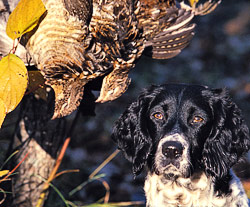 Upland and waterfowl hunting with Dan and the 'Absolute' gun dog team.
You'll find Absolute guided hunts here in North Dakota are a little different than many of those offered by the full-service lodges and game preserves. First of all we hunt wild birds. Around here that would be hunting pheasant, Huns, Sharptails, ducks and geese. We do not release or plant supplemental birds.
Hunt true North Dakota secret spots with a local guide!
I'll guide you to some of my 
secret spots
– places that are overlooked or passed over by the bigger hunting outfitters. In some cases these will be private parcels and ponds not that far from town-owned by families I've known since I was a kid. In other cases we will hunt a little further out. Absolute leases several thousand acres of prime pheasant hunting ground an hour's drive from Bismarck. Our leases are also home to Hungarian Partridge and Sharptail grouse.
Accommodations & pricing
As far as accommodations go we'll, put you up at one of the many lodging facilities in Bismarck.  With the recent oil boom, guaranteeing a specific Hotel has become a challenge, but we will put you up in one that is clean and comfortable.  Funny thing, but most people sleep very well after a day of hunting with us.  Most accommodations will have, a pool, jacuzzi, fitness spa, and sauna, and all are close to a restaurant and bar.  If after all that you're still a little restless, just let me know the next morning and I'll do my best to add a few miles to the days festivities. We can accommodate up to six hunter for full day hunts. Cost is $2195 per person, for a three day, almost all inclusive hunt.  Price includes Lodging(two hunters per room), guide, dogs, quick shop breakfast, lunch, transportation to and from the airport and field, shells, dog boarding, and we'll clean and prepare your birds for transport.  Your only obligation will be alcohol, and a valid North Dakota hunting license and necessary stamps.  A Federal Waterfowl stamp is required for hunting ducks and geese.
What to Expect
A typical day of hunting starts with a stop at the local Quick Stop for a bad cup of coffee, a bag of donuts, and a candy bar or two. Ok, wait. 
It gets better
. If you are a waterfowler we'll hunt corn-fed ducks or geese in the morning. North Dakota has the largest population of ducks in the lower forty-eight. We'll hunt ducks on pot-holes over decoys. For honkers we'll use lay-out blinds and put the spread out in either corn or wheat. When the birds and bullets quit flying we'll break for lunch, and then hunt pheasants and huns in the afternoon. If you just want to hunt upland, we can be a little more civilized with our start times. It's your hunt. You make the call. On your last night, should you feel so inclined, my wife Jen and myself will request the pleasure of your company at our home for cocktails, dinner, and some good conversation around the fire. You can brag about that great shot you made or offer up a lame excuse for the one you didn't. But just so you know, we've heard 'em all and won't be buyin' any of it. Besides hunting, fishing, sports, and the weather, we can talk about anything else you like, including politics and religion. But if we do, you'll have to buy one of our dogs-or we'll just keep one of yours.
Booking Information
Give us a call or email
us and book two, three, four, or five days. We've got the land, the birds, and the dogs. All we need is someone to hunt with. If you come we're willing to bet you and your buddies will remember this hunt as Absolutely the real deal. And we'd be honored if you took us up on it.